Key Dates
 Mark your calendars with these important events.

2016
October 5 - Fall Gathering, 11 am - 1 pm

November 2 - General Meeting - 11:30 - 1 pm - Speaker Program at the Arboretum:  Ronnie Gruhn; Read more...
December 13 - Shadowbrook Community Night (831-475-1511)
Join us at the Shadowbrook Restaurant in Capitola for a meal with friends in a festive, holiday atmosphere.  Consider this occasion for a special holiday celebration with friends, perhaps from an interest group, with other members and spouses, with family members, or with friends who are not affiliated with our club. Hours: Rock Room Lounge - 4:00 - 8:30 pm; Dining Room - 5:00 - 8:30 pm
Make reservations beginning November 15th. Each table should be reserved under a different name to avoid confusion. Mention the UCSC Women's Club when you make the reservation and again to your server on the evening of the event.
One-third of the evening's food and beverage sales is returned to our club
IF
the server knows you are with the UCSC Women's Club. (Exclusions: California sales tax, gratuities,  and complimentary voucher sales or discounted items, such as Two-fer Tuesday happy hour special pricing.)
December 15 - Chancellor's Holiday Party, 3-6 pm at Porter College Dining Hall. R.S.V.P. to your personal invitation from the University.
2017
January 11 - General Meeting - (Note that this is the 2nd Wednesday of the month.) Speaker Program at the Arboretum -  11:30 am - 1 pm
Rachel Nelson, curator and project manager at UC Santa Cruz Institute of the Arts and Sciences (IAS) will speak about the The Crochet Coral Reef, a climate awareness project at UC Santa Cruz. More...

February 1 - General Meeting - Speaker Program at the Arboretum -  11:30 am - 1 pm
Lee and Lincoln Taiz will speak about their new book, Flora Unveiled: The Discovery and Denial of Sex in Plants, Oxford University Press. More...


March 1 - General Meeting - Speaker Program at the Arboretum - 11:30 am - 1 pm
Bettina Aptheker will be speaking.  More...
March 8 -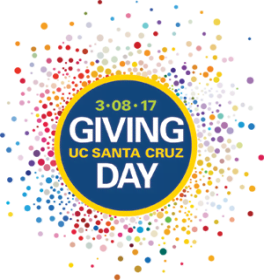 UCSC Giving Day Support the Women's Club scholarship fund for re-entry students with a generous contribution.
March 29 - InterCampus Exchange at UC Merced - Our sister club at UC Merced is hosting the 2017 Intercampus Gathering. Participants may download the program and registration form to submit by March 22.
If you are interested in joining a few of us who will drive to Merced on the 28th and spend the night (instead of driving to Merced early on the 29th) contact Laurie Salatich
lsalatich@gmail.com
by March 17.

April 5 - General Meeting - Speaker Program at the Arboretum - 11:30 am - 1 pm
Michael Warren, Professor Emeritus, Humanities Division, Literature Department
Reseach Interests:  Shakespeare and his contemporaries, British drama
May 3 - Annual Spring Luncheon and Scholarship Recognition, 11 am - 1 pm

May 13 - Human Race Fundraiser
July 1 - Memberships Renewable