Quick Links    
Celebrate All Things Chocolate!
. . . while indulging in a worthy cause!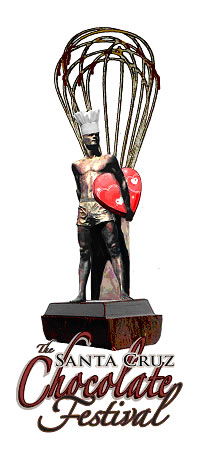 Logo graphic by Andra Rudolph
The 6th Annual Santa Cruz Chocolate Festival is right around the corner!
Sunday, January 20
1:00 pm - 4:00 pm
at the Cocoanut Grove at the Santa Cruz Beach Boardwalk 
Chocolate truffles, chocolate cake, chocolate ganache, chocolate ice cream, chocolate fondue, chocolate toffee, chocolate bars, healthy chocolate, chocolate cupcakes, savory dishes made with chocolate, throw in a splash of wine, coffee or milk, mix in the winner of the Chocoholic of the Year award and the Mayor's proclamation of Chocoholic's day in Santa Cruz, include well known personalities from the Santa Cruz Derby Girls, KSCO and the City of Santa Cruz and you've got one great afternoon!
Online ticket sales have closed. To buy tickets at the event, go to the "Grand" Entrance or Entrance A. If you plan to purchase wine tastes, please remember to bring your photo id and you must be over 21 years of age to participate in this part of the event.
See
Also