Chocolate Workshop/Chocolate Alchemy 101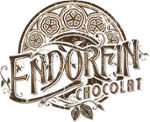 Brian Wallace of Endorfin Chocolat will conduct a two-hour chocolate workshop at the Boardwalk's Cocoanut Grove from 11 am - 1 pm on January 17, 2016, right before the opening of the Chocolate Festival. Participants may purchase the $35 tickets online through our ticket sales.
On January 17, workshop participants should go to the Boardwalk's Cocoanut Grove Entrance B and follow the signs to the workshop. Please be on time. The workshop will begin promptly at 11 am.
Workshop details:
Chocolate Alchemy 101: Quick, Crowd-pleasing Recipes for the Home Chef
In this experiential workshop, we will discuss and savor all things chocolate. We'll start things off with an explanation of the ethnobotanic roots of this amazing treat, from the neurophysiology of sensory experience, to the underpinnings of chocolate's widely touted health benefits, and beyond. For this year's workshop, Brian will be bringing new recipes and techniques to share since his first workshop with us in 2015. We'll spend time making and demystifying a basic infused ganache, which can be used for truffles, cakes, or simply enjoyed straight by the spoonful! We'll also spend time learning the techniques necessary to produce a few outside-of-the-box recipes at home, like 2-ingredient chocolate ice cream, a chocolate-inspired green salad, and more. Throughout the workshop, we'll be working with whole, minimally processed forms of cocoa, including cocoa beans and pure, un-dutched cocoa powder. Each workshop participant will receive a list of recipes to reproduce these wonderful chocolate creations at home.
About Brian Wallace:
My spark for chocolate began when I had my first sample of raw cacao beans - the seeds of the Theobroma cacao tree and the botanical source of all things chocolate. A subtle euphoria gently washed over me, awakening my mind and enlivening me from within. I quickly realized that the "chocolate" I'd had most of my life was so over-processed and diluted with refined sugar and milk that it barely resembled the original food crop it was derived from. A few months later, I quit my job to travel the world in search of the perfect cacao bean, and to apprentice with any teacher who would share their skills with me. I became inspired to create a new style of chocolate, one that synthesized classical European technology, modern nutritional research, and the ethereal aspects of cacao familiar to the ancient Maya & Aztec. I founded Endorfin several years and hundreds of recipes later, to reintroduce cacao to the modern world as the highly nutritive, uplifting 'food of the gods' that it once was.