General Meetings & 2016-2017 Events
When we meet:
We meet on the first Wednesday of each month from October through May, 11:30 am to 1:00PM. These general membership meetings typically feature a speaker or program, as well as light snacks. Our programs are open to members and guests.
Where we meet:
Meetings are held at the beautiful UCSC Arboretum, Horticulture Building II. Detailed directions can be found on the UCSC Arboretum web site.
Theme for 2016-2017:  "50 is Nifty"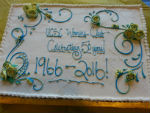 The programs for 2016-17 will celebrate the 50th anniversary of the UCSC Women's Club:
---

Fall 2016

October 5

Fall Gathering and 50th Anniversary Celebration- Members sign up for Interest Groups. Stay for lunch provided by the board members and enjoy birthday cake for dessert.  This meeting will begin at 11 am to allow time for members to browse and sign up for interest groups.

View our 50th Anniversary slide show here.

---

October 19 - Newcomers' Luncheon

...by invitation...

November 2 - Speaker's Program

Isebill V. "Ronnie" Gruhn, UCSC Professor of Politics, Emerita, will speak on "The U.S. Election in Global Perspective." 

Professor Gruhn came to UC Santa Cruz in 1969 as a member of the Politics Department and an affiliate of Stevenson College. Before coming to UC Santa Cruz she taught at Oberlin College. One of very few tenured women during UCSC's early days and one of the first to serve as a high-level administrator, Professor Gruhn was the first female dean of social sciences (1981-1983) and the first female academic vice chancellor (acting) from 1987-1989. She taught, and is a widely published scholar on International Affairs, International Law, and International Institutions. Her research focused on developing societies with a specialization on Africa.

Professor Gruhn received her SBA from Dickinson College in Pennsylvania and her MA from the Johns Hopkins School of Advanced International Studies. She earned her PHD in Political Science from UC Berkeley. Read more about Professor Gruhn at library.ucsc.edu/reg-hist/gruhn

---

December 13 - Dining at the Shadowbrook

"Community Tuesdays" event at the Shadowbrook Restaurant in Capitola has supported local nonprofits for 16 years. 1/3 of sales go to local non-profits.  Make reservations for December 13th after 5 pm at The Shadowbrook (831-475-1511).  1/3 of your dining and drink order will go to the UCSC Women's Club.  Be sure to tell your server that you want your order to be credited to The UCSC Women's Club.

---

December 15 - Chancellor's Holiday Party

3-6 pm at Porter College Dining Hall

...by invitation...

---

Winter 2017

January 11, 2017 - Speaker Program (Note that this is the 2nd Wednesday of the month.)

Rachel Nelson, curator and project manager at UC Santa Cruz Institute of the Arts and Sciences (IAS) will speak.  Her topic - "The Crochet Coral Reef: Stitching Together Community and Climate Awareness at UC Santa Cruz"

Rachel Nelson is co-curator of Collective Museum, the innovative exhibition that spans UCSC's 1000 acres, and has helped create the pioneering artist-in-residency program at the IAS. Rachel has published articles in journals including Third Text and NKA: Journal of Contemporary Art from Africa. She received her PhD in Visual Studies at UC Santa Cruz last December.

The Institute of the Arts and Sciences, in partnership with the Seymour Marine Discovery Center (SMDS) and the Mary Porter Sesnon Art Gallery, is hosting the Crochet Coral Reef project at UC Santa Cruz.

Co-created by Margaret and Christine Wertheim, the 

Crochet Coral Reef includes both an exhibition and a community crochet project which respond to the environmental crisis of global warming and the escalating problem of oceanic plastic trash. Rachel Nelson's talk will introduce the project and the UC Santa Cruz Satellite Reef, the latest addition to the Werthiems' worldwide reefing effort.

(The Women's Club Chocolate Festival is on hiatus this year.)

---

February 1, 2017 - Speaker Program

Lee and Lincoln Taiz will speak about their new book, Flora Unveiled:  The Discovery and Denial of Sex in Plants, Oxford University Press

On Flora Unveiled: The Discovery and Denial of Sex in Plants
Although sex in animals was discovered at least ten thousand years, sex in plants wasn't recognized until the late 17th century. Even after its discovery, the "sexual theory" continued to be hotly debated for another 150 years, pitting the "sexualists" against the "asexualists." Why was the notion of sex in plants so contentious for so long? In the absence of scientific data, cultural biases fill the gaps in our knowledge, and these often remain durable long after the gaps have been unequivocally filled. They are embedded in custom, economics, religion, and even language, and they can make uncovering or accepting new insights very difficult. The fate of Galileo's heliocentric theory in the 17th century is one such example. Invidious fantasies concerning race and gender are examples of this kind of fossilized perception in our own time. Flora Unveiled is a "deep history" of the cultural ideas about plant gender and sexuality, beginning in the Ice Age and ending in the middle of the nineteenth century with the elucidation of the plant life cycle. It traces how the gender bias that plants are unisexual and female (a "one-sex model") delayed both the discovery of plant sex and its acceptance long after the theory was experimentally confirmed. Flora Unveiled traces the close association of women with plants, beginning with women's economic roles as gatherers, weavers, crop domesticators, and first farmers. In the myths and religions of the Bronze and Iron Ages, female deities were strongly
identified with flowers, trees, and agricultural abundance, and during the Middle Ages and Renaissance, the plants-as-female tradition was assimilated into Christianity in the person of Mary. The one-sex, female, parthenogenic model of plants continued into the Early Modern Period and experienced a resurgence during the eighteenth century Enlightenment and again in the nineteenth century Romantic movement. Not until Wilhelm Hofmeister demonstrated the universality of sex in the plant kingdom was the controversy finally laid to rest. Although Flora Unveiled focuses on the discovery of sex in plants, the history serves as a cautionary tale of how strongly and persistently cultural biases can impede the discovery and delay the acceptance of scientific advances. 


Lee and Lincoln Taiz live in Santa Cruz. Lincoln is a professor emeritus in the department of Molecular and Developmental Biology at UC Santa Cruz and a Fellow of the American Society of Plant Biologists. He has published over one hundred fifty papers on a broad range of topics in plant physiology and is co-author of the standard textbook in the field, Plant Physiology and Development, currently in its sixth edition.

Lee Taiz, a research biologist specializing in electron microscopy, co-authored numerous papers on plant biology while on the staff of the Cell and Molecular Biology Department at UCSC. Her paintings, primarily on botanical subjects, have been exhibited widely and appear in books, periodicals and exhibition catalogs.

March 1, 2017 - Speaker Program

Bettina Aptheker, Distinguished Professor, Feminist Studies; UC Presidential Co-Chair in Feminist Critical Race & Ethnic Studies, 2012-2016.

Professor Aptheker's talk is titled, "Women's History/Women's Lives: Justice! Peace! Solidarity! Human Rights!" Her most recent book was a memoir, Intimate Politics: How I Grew Up Red, Fought for Free Speech and Became A Feminist Rebel. She has been teaching at UCSC since 1980. Her current undergraduate classes include African American Feminist History and Feminism & Social Justice. Her current graduate courses include Feminist Pedagogies and Black Feminist Reconstruction.

March 8, 2017 - UCSC GIVING DAY

The Women's Club Scholarship for Re-Entry Students earned $1,878 from 29 donors on Giving Day.


Thank you to those who support the scholarships we give to deserving re-entry students!

Wednesday, March 29, 2017

InterCampus Exchange Day at UC Merced  

Our sister club at UC Merced is hosting the 2017 Intercampus Gathering on March 29. To register, download the program and registration form. If you are interested in joining a few of us who will drive to Merced on the 28th and spend the night (instead of driving to Merced early on the 29th) contact Claudia Parrish by March 17.

---

Spring 2017

April 5, 2017 - Speaker Program & Book Sale

Michael Warren, Professor Emeritus, UCSC Humanities Division, Literature Department, 1968-2001

Professor Warren's talk is titled, "Santa Cruz Shakespeare 2017: Gentlemen Behaving Badly." He served as Textual Consultant to Shakespeare Santa Cruz and as dramaturg for many of its Shakespeare productions throughout the thirty-two seasons of its existence.  He now performs the same roles for the newly created Santa Cruz Shakespeare, and last summer was the dramaturg for the production of A Midsummer Night's Dream.  A past president of the Shakespeare Association of America, he has published The Division of the Kingdoms: Shakespeare's Two Versions of 'King Lear' (co-edited with Gary Taylor), The Complete 'King Lear' 1608-1623, and numerous articles on the texts of English drama. He co-edited (with Gary Taylor) The Widow in The Collected Works of Thomas Middleton.

For our book sale members may bring up to five books to sell.  Proceeds will go to our scholarship fund.  Members will take home books which do not sell and may save them for our next sale.

May 3rd - Spring Luncheon

Annual Scholarship Luncheon…"Spring Sunshine and Stellar Student Scholars" - 11 am - 1 pm

View the invitation and mail your reservation by April 26.

Meet and greet and hear the stories from our scholarship recipients at the Back Nine Grill, 555 Highway 17, Santa Cruz.

May 13th - Human Race

Join club members in running or walking to raise scholarship funds. You may also donate to the Club's scholarships even if you don't walk in The Human Race.  The "race" begins at 2300 Delaware Avenue at 8 am. Breakfast begins at 7 am, and lunch is after the "race."  Contact:  Sally Gaynor
---
Easily add these dates to your google calendar by visiting this 
Calendar
 page.